Our Bin Box Sheds are structurally sound featuring a strong 5 rib profile on the wall and roof sheets, a full internal framing system and wrap around corners, eliminating any sharp edges.
Staff very helpfull and delivery was very quick
Laura Banham
Verified Google Local Review

Our services include delivery only, delivery and assembling, bolting down to an existing floor or we also offer a full installation service including supplying and installing a paving slab floor.
1. Floor Bracing
Corner Braces at Base Rails to Prevent Warping.
2. Wall Bracing
Further strength on the shed walls to ensure they do not warp.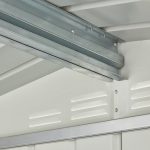 3. Reinforced Gable Centre Roof Beam
Added structural strength for the roof.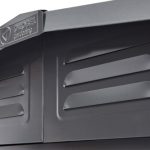 4. Ventilation Grilles
For improved ventilation and reduced heat build up.
5. Smart Drainage
Wall lip to prevent water pooling and corrosion damage.
Enquire About Your Storage Box Today
If you're looking for a Storage Box or you have a question about our sheds, complete the form and we will be in touch.
Free Consultation
Complete your details below to claim a free consultation (valued at $190)