Our Range of Globel Garden Sheds are structurally sound featuring a strong 5 rib profile on the wall and roof sheets, a full internal framing system and wrap around corners, eliminating any sharp edges.
The Globel Garden Sheds are constructed using screws, nuts and bolts. The double sliding door opening provides a large entrance for lawn mowers, bikes and everyday storage.
| | | |
| --- | --- | --- |
| 1.83 x 0.93   $379 | 2.45 x 0.93    $499 | 3.07 x 0.93   $649 |
| 1.83 x 1.54     $499 | 2.45 x 1.54     $599 | 3.07 x 1.54    $699 |
| 1.83 x 1.85    $549 | 2.45 x 1.85    $659 | 3.07 x 1.85    $779 |
| 1.83 x 2.47    $679 | 2.45 x 2.47    $769 | 3.07 x 2.45    $879 |
| 1.83 x 3.09    $789 | 2.45 x 3.09    $899 | 3.07 x 3.09    $989 |
| 1.83 x 3.73    $929 | 2.45 x 3.73    $1039 | 3.07 x 3.73   $1149 |
Wall height is 1.78m on all Garden Sheds. Gable height varies from 1.93m on the 1.83m width, to 1.98m on the 2.45m width and 2.03m on the 3.07m width.
All dimensions quoted are approximate roof dimensions including the overhang, the base is slightly smaller and is measured width x depth.
| | | |
| --- | --- | --- |
| Surf Mist | Woodland Grey | Smooth Cream |
Available in full Smooth Cream or Woodland Grey.
Strong 5 rib profile provides extra strength
Full internal framing system including base frame, mid wall bracing to added strength and roof beams
Ventilated gables to increase airflow and help reduce condensation
Double sliding door opening features in the centre of the gable end with the water run off away from the entry point
Sliding doors are hung at the top on door glides and slide internally
Wrap around corners for neat and tidy finish and additional weather proofing
Pre Drilled Holes for easy assembly
Made from quality grade steel
All Screws, Nuts & Bolts (washers included)
Anchor points – pre drilled every 600mm around the base frame
Flat packed ready for pick-up
Step by step assembly instructions included
10 year manufacturer's warranty
Professional installation service available
| | | | |
| --- | --- | --- | --- |
| Skylight Panel | | $55.00 | |
| Aluminium Sliding Window with Security Grill | 620mm X 620mm | $140.00 | |
| Aluminium Sliding Window with Security Grill | 1250mm X 750mm | $265.00 | |
…an awesome family business that gives that good old fashioned service that is sooooo lacking in many businesses today.
Janice Chantler
Verified Google Local Review

5 Reasons Our Garden Sheds Are Better.
We are proud to say our garden sheds have stood the test of time – just like us. It's the little details that make all the difference. An extra bracket or a reinforced beam. Sure, we could cut corners… but we decided over 30 years ago to be a business that sells quality sheds that last.
1. Floor Bracing
Corner Braces at Base Rails to Prevent Warping.
2. Wall Bracing
Further strength on the shed walls to ensure they do not warp.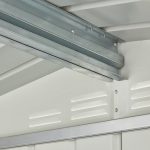 3. Reinforced Gable Centre Roof Beam
Added structural strength for the roof.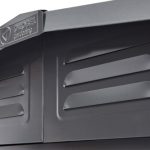 4. Ventilation Grilles
For improved ventilation and reduced heat build up.
5. Smart Drainage
Wall lip to prevent water pooling and corrosion damage.
FAQs About Our Garden Sheds
Yes. At The Shed Man, we house a stocked warehouse full of Garden Sheds and Workshops ready to be delivered or professionally installed to your home.
The Shed Man offers a huge range of starting from very small storage sheds to the larger style workshops with the majority in stock ready to go. A simple phone call is all that is required to arrange to have your Garden Shed or Workshop ready to be picked up or to arrange installation either by assembling and bolting down to an existing floor or if you do not have a floor down for your new Shed we can supply you with a paving slab floor suitable to your Garden Shed or Workshop selection.
Yes.We specialise in the professional installation of new Garden Sheds and Workshops. Our installation services are tailored to your needs. Our services include delivery only, delivery and assembling, bolting down to an existing floor or we also offer a full installation service including supplying and installing a paving slab floor.
The Shed Man has supplied Perth with top quality Garden Sheds and Workshops for over 32 years. Our Garden Sheds and Workshops are of the highest quality on the market.
Some of the features of our sheds include:
Wrap around corner panels: our corner panels wrap around the corners. This adds to the strength and rigidity of the Shed. Wrap around corners also promotes a safer, neater finish.
Screws, nuts & bolts: are assembled with screws, nuts and bolts along with plastic washers for the roof of our Sheds. This ensures long lasting and sturdy built workmanship. All the holes are pre-drilled, which helps ease the building process. Each Shed features 100's of screws, nuts and bolts. As an example; each wall sheet is secured with 12 screws located throughout the top, middle and bottom of the individual sheet. Internal Sliding Doors; our unique internal double sliding door systems are hung from the top door track, secured with nuts and bolts and feature spacers on the bottom to help the ease of sliding the doors open and shut. Our sliding door systems are easily lockable with a simple padlock. Please note we also offer a single or double hinged door system as an alternate to the sliding doors on a selection of our models.
Full internal framing system: all of our products feature a standard full framed system starting with the bottom base rail, which is used to secure to the ground with Dyna bolts as well as attach the bottom of the wall sheets. The mid-wall bracing helps secure the wall sheets to the frame. The top rail secures the top of the wall sheets and the roof sheets. The majority of Garden Sheds on the market do not feature mid wall framing as a standard, therefore elevating our Garden Sheds to a superior entity within the price range. Along with the top, middle and bottom framing, we also supply central roof beams which hold the roof together with screws, nuts and bolts. Once built there is no doubt that it is one of the strongest available on the market.
Ribbed Sheeting: At The Shed Man our Globel range of Garden Sheds and Workshops feature a unique and very strong 5 ribbed profile which has proven to be exceptionally robust.
Enquire About Your Garden Shed Today
If you're looking for a Garden Shed or you have a question about our sheds, complete the form and we will be in touch.
Free Consultation
Complete your details below to claim a free consultation (valued at $190)