Our Range of Globel Garden Sheds are structurally sound featuring a strong 5 rib profile on the wall and roof sheets, a full internal framing system and wrap around corners, eliminating any sharp edges.
The Globel Garden Sheds are constructed using screws, nuts and bolts. The double sliding door opening provides a large entrance for lawn mowers, bikes and everyday storage.
…an awesome family business that gives that good old fashioned service that is sooooo lacking in many businesses today.
Janice Chantler
Verified Google Local Review

5 Reasons Our Garden Sheds Are Better.
We are proud to say our garden sheds have stood the test of time – just like us. It's the little details that make all the difference. An extra bracket or a reinforced beam. Sure, we could cut corners… but we decided over 30 years ago to be a business that sells quality sheds that last.
1. Floor Bracing
Corner Braces at Base Rails to Prevent Warping.
2. Wall Bracing
Further strength on the shed walls to ensure they do not warp.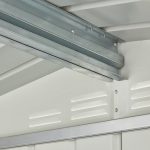 3. Reinforced Gable Centre Roof Beam
Added structural strength for the roof.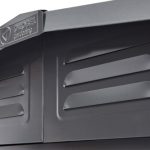 4. Ventilation Grilles
For improved ventilation and reduced heat build up.
5. Smart Drainage
Wall lip to prevent water pooling and corrosion damage.
FAQs About Our Garden Sheds
Enquire About Your Garden Shed Today
If you're looking for a Garden Shed or you have a question about our sheds, complete the form and we will be in touch.
Free Consultation
Complete your details below to claim a free consultation (valued at $190)